Vibration Products
Wire Rope Isolators
ITT Enidine Inc.'s Wire Rope Isolators are comprised of stainless steel stranded cable, threaded through aluminum alloy retaining bars, crimped and mounted for effective vibration isolation. With their corrosion resistant, all-metal construction, ITT Enidine Inc. Wire Rope Isolators are environmentally stable, high-performance shock and vibration isolators that are unaffected by temperature extremes, chemicals, oils, ozone and abrasives.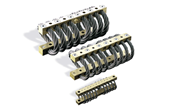 Compact Wire Rope Isolators
Use ITT Enidine Inc.'s Compact Wire Rope Isolators for the best performance in vibration isolation. The compact design is smaller than most wire ropes and can provide both shock and vibration absorption even in situations where package space and sway are an issue.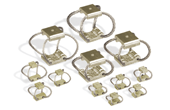 WEAR™ Pipe Restraints
WEAR™ (Wire Energy Absorbing Rope) pipe restraints are uniquely packaged wire rope isolators designed to protect structures from steady state vibration and isolate them from seismic and dynamic loads. These new generation energy absorbing restraints feature simple construction. There are no oils, seals or complex moving parts required to perform their function. The design has eliminated the problems often associated with hydraulic or mechanical restraints which are complex and prone to failure.