Cognex OEM Products
Cognex Advantage Series put the power of embedded vision technology into the hands of OEM. The Advantage™ 100 vision system and the AE2 Advantage image engine are designed for integration into Original Equipment Manufacturer (OEM) devices and equipment. Equipment designers can now take full advantage of powerful Cognex vision and code reading technology in even the most space-constrained and cost-sensitive OEM applications such as those in the clinical diagnostic, printing, kiosk or medical device industries. The Advantage 100 is a compact (23mm x 44mm x 54mm), enclosed OEM vision system with customizable optics, lighting and Ethernet communications suitable for integration into large automated systems as a clinical diagnostics code reader or for other vision inspection. The AE2 Advantage image engine provides an even smaller (14.5mm x 29.1mm x 20.5mm) form factor designed for tight integration deep inside the enclosure of OEM devices manufactured in high volumes such as medical instruments and printers.
1.  Advantage 100 Series Features
The Advantage™ 100 smart camera offers OEMs the ability to leverage the power of Cognex vision and ID tools in an embedded product that is compact (23mm x 44mm x 54mm), flexible but also cost effective. In addition, the Advantage 100 smart camera allows you to tailor optics, lighting and communications for maximum flexibility to meet the specific requirements of your volume OEM integration.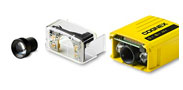 2.  AE2 Advantage Vision Engines Features
The AE2 Advantage™ vision engine offers OEMs the ability to leverage the power of Cognex vision and ID tools in a product that is exceptionally compact (14.5mm x 29.1mm x 20.5mm), flexible but also cost effective. Unlike traditional scan engines, the AE2 Advantage vision engine delivers best-in-class 1-D and 2-D code reading, plus a full suite of industry-proven vision tools to locate, analyze and inspect parts or features for embedded vision applications. The AE2 Advantage vision engine is designed for deep integration into OEM products. The AE2 is also delivered with proven and easy to use application software from Cognex.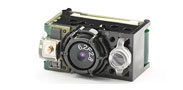 3.  Cognex Vision Library
Cognex Vision Library (CVL®) offers the library of tools that serve as the foundation for In-Sight® smart cameras and VisionPro® software and is designed to help OEMs and advanced vision systems developers build the widest range of machine vision applications with the ultimate platform flexibility.
Proven in nearly one million installations worldwide, CVL® spans all vision needs … from geometric object location and inspection to identification and measurement. You will enjoy platform independence and can take control over updates to your operating system in near real time—whether using Windows, Linux, a desktop PC an embedded box, or a stand-alone processor board built into a manufacturing board.
Write your own vision tools
Configure multi-threading
Access all properties and options
Platform independence
High performance C++ class library