Electronic Flow Meters
An industry leader in both mechanical and electronic flow metering technologies, Badger Meter offers one of the broadest flow control and measurement portfolios in the industry – a portfolio that includes eight out of the ten major flow meter technologies. From electromagnetic, positive displacement, turbine, ultrasonic and variable flow meters to small control valves and a complete line of accessories, we apply our products to develop innovative solutions that deliver precise, accurate measurement information and control.
Coriolis
The Badger Meter RCT1000 Coriolis mass flow meter identifies flow rate by directly measuring fluid mass over a wide range of temperatures with a high degree of accuracy. For fluids consisting of two liquids or two gases, the RCT1000 Coriolis system can derive the concentration and mass of each fluid based on the density measurement. Furthermore, the unobstructed, open flow design makes it suitable for a variety of fluids such as slurries and other viscous, nonconductive fluids that are difficult to measure with other technologies.
Simultaneous measurement of:
Mass flow
Fluid density
Fluid temperature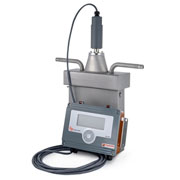 TFX Ultra: Clamp-on Ultrasonic Flow and Energy Meter.
The TFX Ultra-clamp-on ultrasonic flow and energy meter provides accurate and repeatable liquid flow measurement for full pipes one-half inch or larger. Built for non-intrusive flow and energy measurement applications, the meter attaches to the outside of the pipe and does not contact the liquid being measured. The clamp-on design allows quick and low-cost installation, and eliminates worries of fluid compatibility and pressure head loss. With no moving parts, there is no mechanical wear, so repair kits or replacement parts are not needed.
Measurement type: ultrasonic bi-directional flow measurement
Liquid types: liquids with small amounts of suspended solids or aeration Ultrapure Liquids to
Liquids with small amounts of suspended solids or aeration
Accuracy: ±1% of reading
Repeatability: ±0.5% of reading
Available protocols: Modbus RTU over RS485 communications, and Ethernet connection
including BACnet/IP, Ethernet/IP and Modbus TCP/IP
Piping/tubing sizes: ½ inch (12 mm) and above
Configurations: flow meter or energy meter
Measures energy usage in Btu, mBtu, tons, KJ, kW and mW Add MMBTU
Typical Applications: water & wastewater, sewage, HVAC/energy monitoring, power generation, mining, semiconductor, food & beverage, and flow system commissioning and troubleshooting.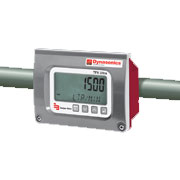 DFX: Doppler Ultrasonic Flow Meter. The DFX ultrasonic Doppler flow meter measures flows of liquids containing suspended particles or aerated liquids. The suspended particles must reflect ultrasonic energy. The DFX flow meter operates by transmitting ultrasonic waves into the flow stream and measuring the frequency shift of the reflected wave. The meter's clamp-on design allows quick and low-cost installation, and eliminates worries of fluid compatibility and pressure head loss. A hot-tappable insertion probe transducer is available for installation on pipe systems that do not permit ultrasound penetration. With no moving parts, there is no mechanical wear, so repair kits or replacement parts are not needed..
Measurement type: ultrasonic Doppler flow measurement
Liquid types: semi-clean liquids with suspended sonic reflectors
Accuracy: ±2% full-scale over calibrated span
Interface: 2-line x 8-character LCD
Pipe/tubing sizes: 1/4 inch (6 mm) and above, full pipe
Power supply: 115/100/230 VAC
Optional outputs: 4-20 mA, dual relay and rate pulse
Automatic gain control and in-field linearization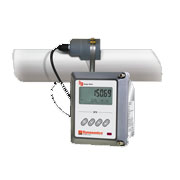 DXN: Portable Hybrid Ultrasonic Flow Meter.
The DXN is simply the best option for your next portable application, with true hybrid transit time and Doppler operation, an expandable 1GB data logger that takes readings over 50 times a second, and the ability to store site-specific parameters using plain English site descriptions. Take control of your toughest applications, add the DXN Portable to your flow measurement toolkit today.
One portable meter does it all – TRUE HYBRID instrument switches automatically between transit time and Doppler measurement as needed
Take control of your reading with the industry's only advanced touch-screen interface featuring job-specific controls
Always have your data on hand with user customizable site-specific parameters, 1 GB internal data logging, and USB connectivity for additional storage capability
Take more accurate readings with superior measurement processing speed; takes over 50 flow readings per second
Built to handle rigorous environments with an outdoor-readable FULL COLOR WVGA display and protective cover
Easy to read flow measurement screens
Multiple graphing options and advanced diagnostics
Full touchscsreen keyboard for more efficient data input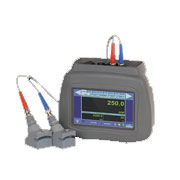 ModMAG M-Series®
Whether it's improving accuracy, decreasing system maintenance or meeting the demands of challenging liquid conditions, Badger Meter electromagnetic meters deliver the performance your critical flow measurement applications require. Our electromagnetic flow meters are designed to achieve ± 0.25 percent accuracy. In addition, the non-intrusive, completely open flow tube design virtually eliminates pressure loss. And with no moving parts to impede the flow stream, maintenance is kept to a minimum – even in less than ideal fluid conditions.
Electromagnetic Flow Meter Solutions
M1000 – For general purpose detection in rugged environments
M2000 – For general purpose detection and field verification testing
M3000 – For hazardous Class 1, Division 2 environments
M4000 – For hazardous Class1, Division 1 environments
M5000 – For general purpose, battery operated detection and field verification
M-Series Field Verification Device – For field verification testing of the M2000 and M5000 mag meters
7500 Series Mag Meter – For industrial batch applications