Valves
Directional Control Valves – 501 Series
High flow rate 11mm pneumatic valve. 4 way solenoid air pilot actuated valves including double 3/2 function. Available in manifold with Fieldbus, compatible with all industrial protocols (DeviceNet, Profibus-DP) and leading Industrial Ethernet protocols (EtherNet/IP, EtherNet/IP DLR, Profinet)
Series: 501

Download Brochure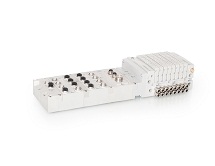 Directional Control Valves – 503 Series
Numatics 503 Valve series provides higher flow and higher reliability in one versatile valve platform. Our 503 Series is available in dual 3-Way and 4-Way solenoid air pilot actuated valves.  503 Series valves are available with manifold or individual base mountings, proprietary or ISO 15407. Numatics 503 series valves are compatible the Numatics G3 Fieldbus Electronics Platform.
Series: 503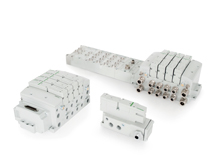 ISO Valves
Numatics ISO Valves adhere to the specific mounting footprint established by the International Standards Organization (ISO). Series: 5599/2, 15407-2, 5599/1
Directional Control Valves
Our 2000 Series valves offer advanced circuit board technology inside. All are Fieldbus Electronics capable. *Fieldbus Capable Series: 2002, 2004, 2005, 2012, 2035

Directional Control Valves
The directional control line of valves are available in a wide range of port sizes and Cv flow capacity. Series: Mark 3, SPA 3 PA 3, Mark 8, 2009, Mark 15, SPA 15, PA 15, Mark 55, SPA 55, PA 55, 140

Line Mounted Valves
In-line or manifold mounted, featuring DIN plug-in solenoids with indicator lights, operate on lubricated or unlubricated air. Series: LO1, L1, L2

Poppet Valves
For compressed air or vacuum service, Numatics poppet valves are ideal for use with single acting cylinders, air bellows, and vacuum material handling applications. Series: NF (PA-SPA), NG (PA-SPA-Vacuum), NM Foot Pedal

Lockout and Shut Off Valves
Numatics lockout and shut off valves prevent unauthorized pressurization of an air system during service or maintenance. Inline: VL / VT 32, 40, 42, 52 – Modular: VSL 32, 42

Automotive Series Valves
The Numatics Automotive Series valves comply with automotive interchangeable and S.A.E. industrial standards. Series: 75, 125, 250

Direct-Acting Solenoid
Direct-Acting Solenoid Valves utilize the force generated by the magnetic field of the solenoid to operate the valve. When the electrical current is removed, a mechanical spring returns the valve to its original position. Small in size, Humphrey Direct-Acting Solenoid Valves are available in M3x0.5, 10-32 UNF, 1/8 Pipe and 1/4 Pipe porting.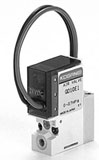 Proportional Solenoid Valves
Proportional valves are small electronic flow controllers. Users can vary input current to the solenoid, and the output flow of the valve varies accordingly. The greater the input current, the greater the flow through the valve. Series is available as inline or manifold mount models in several pressure and flow settings.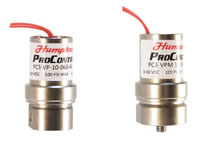 Indirect-acting Solenoid
Indirect-acting solenoid valves utilize a small Humphrey direct-acting solenoid valve to pneumatically operate a larger air-pilot valve. This results in a high-flow capacity in smaller overall sizes and low power consumption. Indirect-acting valves are the poplular choice for operating pneumatic cylinders and actuators where the pneumatic pressures are typically set to 30-100 PSIG.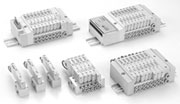 Air Pilot Valves
Air pilot valves use a remote air signal to shift the valve. A single air pilot valve uses one air pilot signal to shift the valve and internal air pressure, or spring, to return it when the signal is removed. A double air pilot valve uses a momentary air-pilot signal to shift the valve to one position and a second momentary air-pilot signal to return it to its original position.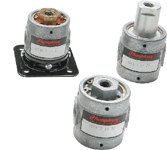 Manual and Mechanical Air Valves Manual and Mechanical Air Valves feature the exclusive diaphragm-poppet design originated by Humphrey. The design consists of two specially contoured diaphragms mounted to an axial stem within a full orifice valve body. This classic design is simple, versatile, and highly reliable.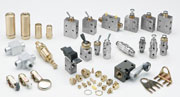 TAC Valves Based on their long life, small size, rugged construction and attractive appearance, the Humphrey TAC, TAC-2 and TAC-3 family of manual/mechanical air valves are popular choices by design automation engineers.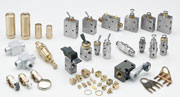 Vacuum Valves
Vacuum Valves control the flow of vacuum for material handling or process control where other mechanical methods may not be suitable.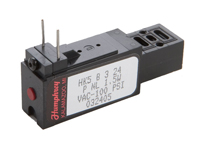 Cartridge Insert Valves
Cartridge insert valves use the proven designs and principles of Humphrey inline and manifold valves with valve bodies that permit insertion into a custom manifold. Various orifices are available from 1/16″ through 1/2″.
Quick Exhaust Valves
Quick Exhaust valves accelerate the speed of pneumatic functions. The valves release pneumatic pressure to atmosphere at a point close to the functioning device (such as linear cylinders, rotary actuators, and volume chambers) versus at the remotely placed control valve.