Identification & Traceability Solutions
Cognex barcode scanner is an image based barcode scanner. Advanced image processing algorithms allow users to handle different types of code from 1-D linear barcodes, higher- density 2-D matrix codes, or direct part mark (DPM) codes. Data transfer and I/O features enable users to control traceability and quality control. At P&P, we have engineers that help our users to choose suitable model to match their applications.
Fixed-mount Barcode Readers
Handheld Barcode Reader

Dataman 8050 series
DataMan® 8050 series readers are equipped with Cognex's world-class barcode reading algorithms and designed to withstand harsh factory floor conditions. The best in class algorithms decode even challenging barcodes quickly and easily including Direct Part Mark (DPM) codes. And, the flexible modular design ensures the DataMan 8050 series readers are ready to meet ever changing communication needs.
Want to know more about this product? Talk to us!

Dataman 8600 series
DataMan® 8600 series image-based ID readers provide the world's most advanced barcode reading technology for decoding Direct Part Mark (DPM), 2-D and 1-D codes of varying sizes, quality and marking or printing methods. These handheld DPM barcode readers are designed for the harshest factory floor environments. Equipped with an advanced liquid lens imaging system and patented UltraLight® flexible lighting technology, the DataMan 8600 series of barcode readers decode the most challenging DPM barcodes on the widest variety of surfaces. The modular design supports corded RS-232, USB, and Ethernet options, as well as cordless Bluetooth and Wi-Fi options to ensure the DataMan 8600 series of readers are ready to meet your application communication requirements.
Want to know more about this product? Talk to us!
Mobile Terminals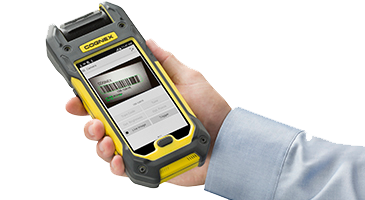 The MX-1000 series vision-enabled mobile terminal allows you to leverage the latest mobile device technology for your industrial barcode reading applications. The MX-1000 is ideal for reading DPM codes on automotive parts and label-based barcodes on packages and equipment. The flexible design accepts a variety of both current and future generation mobile devices and augments their capability in a fully ruggedized housing tough enough to stand up to the most challenging environments. Put your mobile devices to work across your entire enterprise!
More Information
Barcode Verifiers

Dataman handheld verifier 8600V
DataMan 8600V series verifiers deliver a portable and compliant handheld verifier with superior ease of use and cost effectiveness. This enables manufacturers to perform verification on the factory floor, rather than at a remote or fixed verification station.
Want to know more about this product? Talk to us!

Dataman fixed-mount verifier 100V
The Cognex DataMan 100 Verification System provides you with a flexible solution to verify the widest range of parts that conforms to the ISO 15426-2 verification system standards.
Want to know more about this product? Talk to us!