Cognex Industry-Specific Solutions
P&P provides the manufacturing industries with Cognex's Industry Specific Solutions, this is possible because Cognex has wide expertise in the field of machine vision and industrial id applications like track & trace applications, cylindrical inspection, wafer identification, semiconductor softer, logistic barcode application, Cognex explorer real time monitor, solar barcode reader, tyre inspection solutions and many others.
1.   In-Sight® Track & Trace Software
In-Sight® Track & Trace works with your networked In-Sight vision systems to create a complete identification and data verification solution for labels on pharmaceutical and medical device packaging.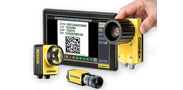 2.   OmniView Cylindrical Package Inspection System
High speed 360° inspection of un-oriented bottles, jars and other cylindrical packages. The Cognex OmniView® system delivers high speed inspection and identification of labels and lids on un-oriented cylindrical products such as cans, bottles, jars and vials. The unique multi-camera 3D modeling technology inspects products at any orientation without having to slow your line… at up to 1200 parts per minute! A color option allows you check label graphics and bottle contents, while high resolution cameras help you check tall, thin bottles from base to neck in a single field of view.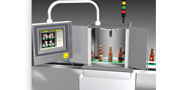 3.   Automatic Identification for Wafer Traceability
The intensely competitive global semiconductor industry demands ever more rigorous control of increasingly complex processes in order to maximize tool utilization and production yield; there is zero margin for error. The need to track wafers throughout back-end processing has never been more vital to profitability.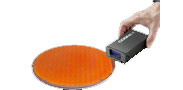 4.   Semiconductor Software
Cognex offers two PC-based software development environments: CVL® (Cognex Vision Library) and VisionPro®. Both systems include a wide range of powerful Cognex vision tools, from low-level filters to sophisticated wafer and die alignment and inspection tools. In addition, CVL and VisionPro give you total hardware independence—delivering superior tool performance no matter which camera, frame grabber or direct-connect digital standard you use.

5.   DataMan Logistics Barcode Readers
Advanced barcode reading for warehouse, distribution and fulfillment centers. DataMan logistics barcode readers combine the benefits of image-based readers with the ease-of-use and cost of laser scanners for your postal, parcel and package sorting operations.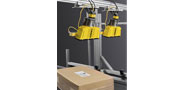 6.   Cognex Explorer Real Time Monitoring (RTM)
Maximize the performance feedback benefits of DataMan image-based barcode readers by leveraging Cognex vision technology. Cognex Explorer™ Real Time Monitoring (RTM) system uses world-class Cognex vision technology to monitor DataMan® barcode reader performance. Facility managers face a wide variety of challenges making on-site process optimization a top priority. With a scalable architecture and browser based interface for viewing performance statistics, Cognex Explorer RTM empowers facility managers with data that can assist in removing system defects and optimize processes.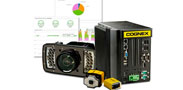 7.   DataMan 302 Solar ID Code Reader
DataMan® 302 barcode reader with integrated blue illumination is available for solar PV wafer traceability initiatives. The high resolution (1280×1024 pixels) image-based ID reader is ideal for decoding the challenging laser marked ECC-200 Data Matrix codes on PV wafers that comply with the industry standard SEMI PV29-0212. The DataMan solar reader can be used to read DPM (Direct Part Mark) codes on PV wafers or thin-film glass panels making it the most versatile reader for the entire solar industry.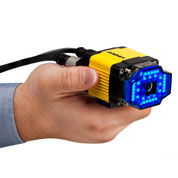 8.   Tire Barcode Scanning Solutions
Tire manufacturers require reliable barcode reading and machine vision solutions throughout all production stages – from receiving raw materials to final assembly. When the lifecycle of a tire spans multiple locations and buildings, accurate tire identification is essential for managing compliance, work in progress, sorting and routing, and quality control. Cognex Tire Solutions integrate proprietary machine vision knowledge, identification expertise and high performance barcode reading technology into pre-configured systems that meet the requirements of the tire industry.