Servo Drives and Servo Motors
Control Techniques servo drives and servo motors: high performance combined with maximum flexibility The servo drives can connect to a wide range of motion controllers through I/O or dedicated communication networks such as SERCOS and EtherCAT or alternatively, take control of the automation system through the drives integrated motion controller.
Unimotor is a comprehensive family of high performance AC brushless servo motors. With a wide torque range, from 0.72 Nm up to 136 Nm, rated speeds from 1000 rpm to 6000 rpm, several inertia levels and a broad selection of feedback options, Unimotor offers the perfect fit for any application requirement. Various mounting arrangements and a single cable option provide additional flexibility, while drive integration with electronic nameplate offers ultimate ease of use.
To optimize performance, we segment our servo drives and motors by the duty required for the application.
Pulse Duty - High dynamic applications requiring hard accelerations and decelerations. Examples are pick-and-place, flying shear and other cut-to-length machines. These applications are characterized by high peak (e.g. 300% overload) and moderate RMS torque.
Continuous Duty - High-precision over an extended duration requiring lower acceleration and deceleration rates. Examples include printing, winding and labelling. These applications are characterized by moderate peak and high RMS torque.
Digitax HD Servo Drive Series
0.7 Nm – 51 Nm with 153 Nm peak
1.5 A – 16 A with 48 A peak
200 V | 400 V
0.25 kW – 7.5 kW
Minimum size, maximum performance
The Digitax HD servo drive series extends the Unidrive M range with maximum servo performance in a minimum size package. Optimized for high-dynamic applications, Digitax HD provides the flexibility of both standalone and modular configurations. The drive offers full servo control plus open loop permanent magnet motor and induction motor control across four functionality levels: EtherCAT, MCi machine control, Ethernet and the flexible Base servo drive.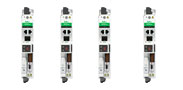 Digitax ST Servo Drives
0.72 Nm (6.4 lb-in) to 18.8 Nm (166.5 lb-in)
(Peak 56.4 Nm / 499.6 lb-in)
200V / 400V
Digitax ST is a dedicated servo drive optimized for pulse duty. The servo drive is available in five variants, and is designed to meet the demands of modern manufacturers for smaller, more flexible and higher performing machinery.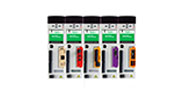 Unidrive M700
0.75 kW – 2.8 MW (1.0 – 4,200 hp)
200 V / 400 V / 575 V / 690 V
Unidrive M700 provides high performance motor control and ultimate control flexibility in order to satisfy the requirements of machine builders and high specification industrial applications. Unidrive M700 offers an enhanced upgrade for existing Unidrive SP users.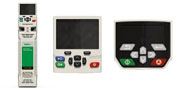 Epsilon EP
2.2 – 16.0 A rms (4.4 – 32 Peak)
115V / 230V
Epsilon EP, Control Techniques' compact and easy-to-use servo drive, is scalable from a simple amplifier to a completely programmable 1.5-axis motion controller.
The Epsilon EP is available in three flexible models – Epsilon EP-B (base), Epsilon EP-I (indexer), and Epsilon EP-P (programming).
Each model is available with five drive different power stages—2.2A, 4.0A, 6.5A, 9.0A and 16.0A—providing the capability to deliver over 198 lb-in (22.4 Nm) of torque at the rated motor speed and 396 lb-in (44.8 Nm) of peak torque for those high demanding pulse duty application.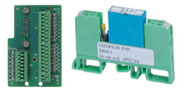 AC Servo Motors
Unimotor is Control Techniques' high dynamic brushless AC servo motor range, designed for operation with Unidrive M, Digitax ST, Unidrive SP and Epsilon EP drives.
Unimotor hd is a high peak torque, low inertia motor range. Designed for high dynamic applications requiring hard accelerations and decelerations.
Unimotor fm provides high-precision over an extended duration requiring lower acceleration and deceleration rates. The motor is optimized for high stability in precision profiling applications.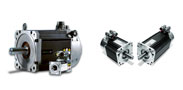 Unidrive SP Servo
0.72 Nm – 136Nm
200V \ 400V \ 575V \ 690 V
Unidrive SP can control a wide range of industrial motors. In Servo mode the drive operates as a high performance servo amplifier, matched to the Unimotor fm motor range and optimized for continuous duty applications due to its high continuous output rating. Typical continuous duty applications are printing, winding and labeling.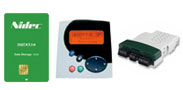 Servo drives Superseded
Information to support Control Techniques legacy products, these products that are no longer in volume production. While these may not be available new, it is likely that we can still repair and service them.