Gripping Solutions
Since 1980 with the release of its patented series of parallel grippers, the Robohand brand name has come to represent the best in innovation, quality and reliability. Offering a vast range of products and solutions, Robohand products serve all markets including stainless steel grippers for food and beverage, miniature clean room products for pharmaceuticals and heavy duty material handling solutions for industrial automotive applications. Gripping Solutions Include:
Standard and Precision Pneumatic Grippers
Maintenance-free Electric Grippers
Clean room, food and automotive grippers
High quality Linear Actuators (slides)
Full line of Rotary Actuators (rotaries)
Automatic full-sensing Robotic Arm Tool Changers
Robohand G100 Series Pneumatic Grippers
The Robohand G100 Parallel Gripper delivers better performance, less maintenance, and faster operation without added costs to machine builders.
The Industry Standard for Machine Builders
Low Maintenance: Shielded design ensures continuous operation in a variety of manufacturing environments
Compact Design: High force, low profile, with strokes from 5 mm to 50 mm
Increase Productivity: twice the speed over competing units
Easy Commissioning: Cost saving installation kits
Economical: Cost effective solutions with short delivery times
Interchangeable Gripper Fingers: Re-use fingers designed for SMC MHZ series for easy installation
G100 Family Overview
A wide variety of different models
Four different bore sizes 8, 11, 18 and 25 mm
Fast actuation times from 0.06 seconds
Multiple stroke options from 5 mm to 50 mm
Higher grip force in a smaller package: 56 to 568 N
Extended vertical jaw option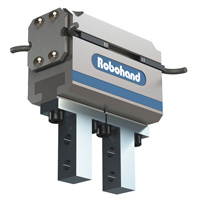 Robohand Pneumatic Grippers
DE-STA-CO Robohand grippers are high-quality, robust grippers available in a wide range of sizes and configurations. The DirectConnect™ feature allows for a complete multi-axis pick & place solution without the need for transition plates.
Wide range of sizes and configurations:
2-jaw or 3-jaw with parallel or angular jaws
Originator of the double-wedge design for long-life, robust grippers
Low break-away precision grippers for picking up fragile precision parts with high repeatability
Fail-safe grippers

Robohand Electric Parallel Grippers
Robohand zero-maintenance electric grippers deliver faster installation, lower maintenance costs, increased reliability over traditional pneumatics grippers. Gripper open and closed operation is controlled using a discrete output from an industry standard controller such as a PLC.
DPE and RPE Electric Grippers
Key Advantages
Simple and fast installation, no software required
No valves, tubing, compressor, or filters required
Zero maintenance for maximum machine uptime
Clean room friendly, no air contaminants
Energy efficient reducing operation costs
Easier to operate and control than pneumatic grippers

Robohand Slides and Thrusters
Internal and external powered slides available
Combine slides for multi-axis pick & place solutions
Precision hard stops and shock absorbers available
Robohand precision slides have low break-away

Robohand Pneumatic Rotaries
Pneumatic Robohand Rotary Actuators (Rotaries) are available in a wide range of models: Shaft or flange output, high or low precision, light-duty to heavy-duty. Some models feature the DirectConnect hole pattern for easy integration with other Robohand products – no adapter plates!
Robohand rotaries are available in several styles for a variety of applications.
DRF Flange Rotaries with DirectConnect for easy integration with other Robohand products and for applications requiring a precision end stop and zero backlash
DRG Shaft Output Rotaries with DirectConnect for applications where low precision end-stop positioning and backlash are acceptable
RR light, medium and heavy-duty Rotaries have a flange output and a low profile for tight space applications