Cognex Vision Systems
Cognex Machine Vision Systems We P&P provide products and solutions for all your machine vision automation applications. Your manufacturing process can speed up production, minimize defects and reduce costs with machine vision technologies from Cognex. With nearly one million Cognex's machine vision systems installed worldwide, Cognex is the world's most trusted machine vision company. We P&P the authorised Cognex's Automation Solution Provider have the people, experience, and knowledge to ensure the machine vision technologies you deploy do exactly the job you need to Make It Right for you.
1.  In-Sight Vision Systems
Cognex In-Sight® vision systems are unmatched in their ability to inspect, identify and guide parts. These self-contained, industrial-grade vision systems combine a library of advanced vision tools with high-speed image acquisition and processing. A wide range of models, including line scan and color systems, meet all price and performance requirements. Best of all, configuring and deploying an In-Sight vision system has never been easier.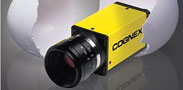 2.  Checker Vision Sensor
The Checker® vision sensor is an award winning all-in-one industrial sensor with built-in camera, processor, lighting, optics, and I/O capable of detecting and inspecting up to 6,000 parts per minute–all in an industrial IP67 enclosure small enough to fit into the tightest of spaces.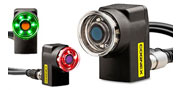 3.  Cognex Designer Vision Software
Cognex Designer makes it faster to build complete vision applications and allows developers to more easily take full advantage of the powerful VisionPro® tool library. A graphical, flow-chart-based programming environment results in a diagrammatic representation that's easier to understand, explain to others, and maintain.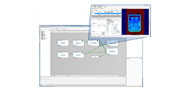 4.  VisionPro Vision Software
Total hardware independence: use the camera,frame grabber, or direct-connect digital standard of your choice
Industry-leading VisionPro power tools for reliable performance
Fast and flexible application development: drag and drop, scripting, or programming
Simple setup: intelligent software fixtures position tools dynamically
Reusable tool groups shorten development time
Designed to harness maximum power provided by modern multicore machines
Compatible with Microsoft® Windows® 7 and Windows® 8 in five languages
Supports seamless switching between Microsoft 32-bit and 64-bit operating systems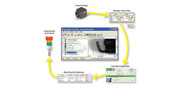 5.  Calibrated 3D Vision
The DS1000 series 3D sensor optimizes product quality by providing three-dimensional inspection of your products. The sensor is factory calibrated and includes industry-leading Cognex machine vision software with powerful 2D and 3D toolsets and a compact, IP65-rated design withstands even the harshest factory environments.