CRL Remote Handling
CRL Manipulation & Transfer Equipment Remote Handling Equipment
Central Research Laboratories (CRL) manipulation and transfer equipment and remote handling equipment, which allow human operators to safely perform dexterous maneuvers in hazardous or sterile environments. CRL products are used primarily in these markets:
Pharmaceutical: the manufacture of pharmaceuticals in sterile isolators and containment gloveboxes
Bio-containment: the creation and testing of medicines and the handling of materials and organisms associated with extreme biotoxins
Radiopharmaceutical: dosage preparation and verification of isotopes in hot cells for medical diagnosis and treatment Nuclear: fuel research and development, fuel reprocessing, and nuclear waste processing and packaging.
Since 1945, Central Research Laboratories has developed a variety of technologies for the safe and efficient handling of materials where the human operator cannot have direct contact with the material. These technologies are employed in products that enable the user to process materials with confidence, assured that the operator and/or the product being processed is properly contained and protected at all times.
CRL Services
Central Research Laboratories (CRL) provides complete before- and after-sale service for all products, including:
Engineering assistance to ensure proper layout, installation, and operation
On-site installation support
On-site field service (repair and maintenance) of all CRL equipment
Factory repair and refurbishing
Complete spare parts availability
On-site or factory training on equipment maintenance and operation
Technical support for the life of your equipment
CRL Transfer Products
For hazardous, toxic or sterile material transfer equipment, count on CRL Transfer Products. CRL manufactures transfer equipment and products used in many material transfer requirements, such as:
Transfer a hazardous toxic or sterile material from one sealed enclosure to another sealed enclosure
Perform this transfer without contaminating the sealed enclosures or the environment surrounding the sealed enclosures

Waste Drum Transfer Systems (WDTS)
CRL's Waste Drum Transfer System (WDTS) was developed to address a growing need in the market for safe and repeatable waste transfers. The WDTS gives hot-cell banks and waste generating gloveboxes the ability to automate the waste removal process, removing the interface of operators with dangerous waste products.
Waste Drum Bagging SystemThe Waste Drum Transfer System consists of:
A plate-mounted transfer port assembly typically mounted in the floor of a glovebox or a hot cell
An automation control unit that can be mounted remotely
CRL provided HDPE drum liners for insertion into standard 55 gallon drums
A drum lift and transfer cart that can be provided depending on application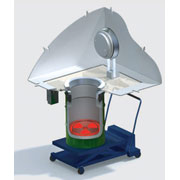 Telemanipulators Products
CRL TelemanipulatorTelemanipulators products are typically used when the need to remotely perform tasks in a high radiation or hazardous environment arises.
Typical tasks range from operation laboratory instruments to the maintenance of large process equipment, all operations requiring dexterous manipulations.
These tasks are unstructured and require real-time dexterous human intervention.
CRL offers two Telemanipulation platforms:
One-piece fixed units: Unsealed design for use in an air environment
Three-piece modular units: Sealed design for use in inert environments

Gloveport Systems
CRL's Gloveports are used for the need to remotely perform tasks in an isolated environment
Isolation may be required to protect the process from the operator or to protect the operator from the process.
Typical tasks are unstructured and require human dexterity and real-time intervention. CRL Standard Glove CRL Convoluted Sleeve CRL Round Convoluted Glove
Types of Gloveports
Round or Oval Push-Through Gloveports are used in isolators or gloveboxes where those activities bring together dangerous or sterile products and human operators.
Fixed Pharmaceutical Gloveports allow operators to comfortably extend their hands through sealed glove ports in the barrier wall of an isolator.