Clamps
DE-STA-CO material handling clamps are built to meet the most demanding requirements, to keep your workpieces in place. Workpieces need to be held in a specific position using a specific amount of force in the shortest period of time. Once the workpiece is clamped, the processing of it is usually carried out. This means that the following tasks must be fulfilled using DE-STA-CO Manual, Pneumatic and Hydraulic Clamps including:
Quick clamping
Secure holding
High clamping forces in a variety of space requirements
Distortion-free clamping of the workpiece
Good accessibility to the workpiece
Manual Clamps
Since 1936, when the first manual toggle clamp was designed and manufactured, DE-STA-CO has been a world leader in Workholding innovation and technology. DE-STA-CO offers a wide selection of manual toggle clamps from hold down clamps (vertical or horizontal handle) to latch clamps and straight action or squeeze-action clamps. Whatever your manual clamping needs, DE-STA-CO has a solution.

Pneumatic Clamps
DE-STA-CO Pneumatic Clamps use air-actuated cylinders to operate the clamping action. They are ideal for quick clamping in repetitive production operations, and yet are portable and economical to use on short run jobs with temporary fixturing. Basic types of DE-STA-CO pneumatic clamps include:
Hold-Down Action
Straight Line Action
Swing/Pull Action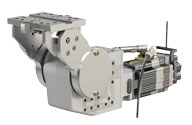 Hydraulic Workholding Tools & Products
DE-STA-CO Hydraulic Clamping products provide powered workholding solutions where greater clamping forces combined with fast, repeatable and reliable actuation are needed, such as those faced in the modern machine shop. We offer a variety of clamping components, power sources and accessories that are ideal for retrofitting or updating simple mechanical systems or more complex clamping and locating applications. Primary advantages of hydraulic clamping include:
High clamping forces with relatively small clamping elements
Repeatable and consistent clamping force given part size variation
Remote operation of many clamping elements for increased productivity
Most components are available as singe-acting to allow the use of our air-oil boosters. These economical power sources offer an affordable way to get the power of a hydraulic system with the use of your shop air supply.

Hydraulic Clamp Accessories
Manual & Pneumatic Clamp Accessories
DE-STA-CO Hydraulic Clamp Accessories are matched to DE-STA-CO Clamps to provide optimal performance and functionality. Accessories include:
Pneumatic Sensors
Bolt Retainers
Spindles

Cone-Tip Bonded Neoprene Spindles
Flat-Tip Bonded Neoprene Spindles
Hex-Head Spindles
Hex-Head Stainless Steel Spindles
Large Diameter Swivel Spindles
Swivel Foot Spindle

Caps

Neoprene Cap
Polyurethane Cap, Cone Tip
Polyurethane Cap, Flat Tip
Special Neoprene Cap

Flanged Washers