End Effector Tooling
DE-STA-CO End Effector Tooling provides complete part handling and application solutions for every stage of manufacturing.
Fully Customizable: Allows for unlimited configuration possibilities utilizing vacuum cups, magnets, clamps or grippers.
Flexible Mounting: Systems allow for both end and mid-frame mounting for interfacing with the robot.
Manual or Automatic Tool Change: Permanently mount your tooling to any robot or choose from either manual or automatic tool change. Quick-connect electric and air ports allow for fast tool change with minimal downtime.
DE-STA-CO uses ARV-Auto Release Venturi, vacuum cups, and round tooling to stack this pallet of straw bale. DE-STA-CO offers complete Material and Parts handling solutions "Beyond the Wrist" for nearly any applications and industry around the world.
Vacuum End Effectors – Robotic Tooling Equipment
DE-STA-CO's family of vacuum end effectors, or vacuum end-of-arm robotic tooling equipment, serve a wide range of applications. Whether it be decentralized single-line venturi vacuum generators (with auto blow-off), level compensators, vacuum cups of various size/shape/temperature ranges or a fully-integrated air-saving centralized 'smart' vacuum generator, DE-STA-CO has the vacuum solution for your company!

Round Tooling End Effectors
DE-STA-CO's Round Tooling end effectors are the most widely used, economical and user-friendly modular tooling system for high volume, low cost, light to medium weight applications. Round tooling is ideal for pick-and-place part handling, manual manipulating, packaging, and palletizing. Features include:
Steel and aluminum structural members, infinitely-adjustable clamps/transition brackets and accessory mounts.
Off-the-shelf standard components allow the user to quickly and easily construct an End Effector that is custom to the application.
After years of rugged use, round tooling components can be quickly disassembled and reused for the next application, substantially reducing life cycle cost.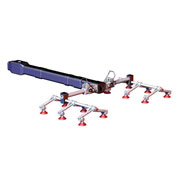 Speed Matters: Accelerate Production with Lightweight Tooling
Accelerate LogoThe Accelerate Collection of Lightweight Tooling
The DE-STA-CO Accelerate Collection of Lightweight End Effector Tooling will help you move parts faster in today's production line
AdvantagesLightweight End Effector Tool
Increased Speed: Capable of increasing productivity by 25 to 30% with lightweight components
Improved Ergonomics: 50% weight reduction with high strength aircraft aluminum vs. steel components resulting in higher safety ratings for workers
Lightweight End Effector ToolLocalized Support: DE-STA-CO offers local manufacturing and support throughout Europe, Asia, North, and South America
Reduced Maintenance: Decreased downtime due to wear and tear on automation with Lightweight Tooling
BodyBuilder End Effectors – Modular End Effector System
The BodyBuilder Modular End Effector System was designed for final assembly and material handling applications where a robust, yet easy-to-use system was needed. The patented 'crash recovery' method allows the end user to quickly rebuild their structure, reducing downtime in the event of an automation collision. DE-STA-CO's comprehensive family of automation adapters, structural and transition members allow the user to fully customize their design from off-the-shelf components.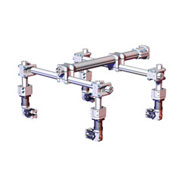 Automatic & Manual Robotic Tool Changers
Tool Change End Effectors
Tool Change End Effector CollageDE-STA-CO's Automatic and Manual Tool Changers are perfect for flexible/multiple robotic tooling applications which use only one robot. These products were designed with exceptional repeatability, high rigidity and load capacity to make them ideal for any robotic application. End effector tooling and modular fixturing can be changed quickly and easily to accommodate many different styles of parts on the same assembly machine or machining center.
Manual Tool Changers
Automatic Tool Changers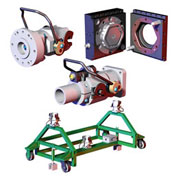 SpiderGrip Geometric End Effectors SpiderGrip™ geometric end effectors are designed to aid in the geometric assembly of mating parts (precision tolerance). SpiderGrip™ is a fixturing system for high precision weld/mastic assembly operations which capitalizes on DE-STA-CO's Modular Tooling Principle: off-the-shelf components to make any size/shape structure.
SpiderGrip™ components are manufactured to such a high standard that any single component can be replaced without affecting the location or geometry of the parts that are being assembled.
A "fuse" (break away) has been designed into the system so that in the event of a crash only a single component needs to be replaced, preserving the location of pins, clamps and gages.
No need for a back-up or spare end effector: 75% reduction in MTTR (compared to traditional systems)