Industrial Sensors
TRI-TRONICS® designs, manufactures and supplies high-quality photoelectric sensors, fiberoptic light guides and controls for a wide variety of industrial automation applications. The performance of Tri-Tronics sensors in real-world applications sets us apart from the competition in the market. Need your equipment to run faster and produce more? Compare a Tri-Tronics sensor with output performance measureable in MICROseconds against competing products with output performance measureable in MILLIseconds.
SMARTEYE® SmartDot® Laser Sensor
The SMARTEYE® SmartDot® Laser Sensor from Tri-Tronics Company, is designed for precise, small parts detection at long ranges. The consistently small laser beam is used to detect such things as a tab on a battery, a misaligned or missing bottle cap, or a cross-threaded can lid. The SmartDot Laser Sensor can be easily aligned, repeatedly in order to be used in the inspection and rejection of micro-parts such as the legs on an IC chip, threads on a bolt or screw, and to check for a number of critical identifying features on miniature products, like syringes and other biomedical devices.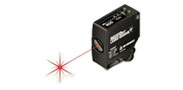 Clear Label Sensor
TRI-TRONICS® introduces the very first Ultrasonic Clear Label Sensor with a High Performance Graphic OLED display. The OLED display provides the user with an unprecedented view of the sensor's performance, options, program modes, and helpful simple instructions never before offered in a Clear Label Sensor. Designed into the sensor are all the Ease-of-Use characteristics that have made Tri-Tronics' sensors so well known in the industry.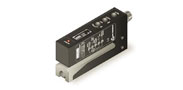 SMARTEYE® X-PRO XP10
The SMARTEYE® X-PRO XP10 is the highest speed (10µs) dual-function sensor in the world, designed to be a precision registration mark sensor with 5µs repeat­ability and a standard photoelectric sensor for any high speed application. The 5µs repeatability provides the most highly accurate edge detection in the industry!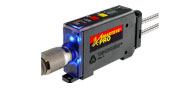 SMARTEYE® X-MARK™
The SMARTEYE® X-MARK™ is the fastest, most accurate registration mark sensor available on the market. The X-MARK™ was designed to target the printing, packaging, and converting markets. By creating a specific sensor to exceed the current capability of the market leaders, and at a price that removes all barriers to change, the X-MARK™ is sure to attract the attention of engineers and purchasing agents alike.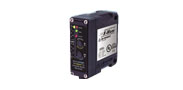 MINI-EYE™
MINI-EYE™ is a full line of very economical, miniature photoelectric sensors designed to perform most sensing tasks from even the tightest locations. The rugged MINI-EYE™ sensors are waterproof and enclosed in high-impact plastic housings for use in hostile environments. They are also immune to indirect ambient light and strobes.