Pneumatic Linear Actuators
Rodless Pneumatic Air Cylinders
A rodless pneumatic air cylinder can guide and support a load throughout the entire stroke length of the cylinder making them a great choice over rod-style air cylinders for longer stroke applications where saving space is a concern. Tolomatic rodless pneumatic air cylinders offer a variety of bearing styles that can accommodate light, moderate and heavy loads with maximum durability.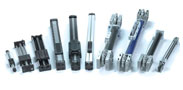 Pneumatic Linear Thrusters
Tolomatic's Power-Block and Power-Block 2 rod cylinder slides are versatile performers with a wide range of options. These actuators have the highest load weight vs extension for their kind in the industry and they are ready to ship in 5 days or less.