Aventics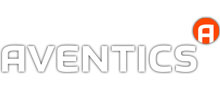 Aventics is one of the world's leading manufacturers of pneumatic components and systems. The pneumatic engineering company provides products and services for industrial automation, as well as the food, packaging, medical, and energy technology industries. The company also develops solutions for the commercial vehicles, marine, and railway technology sectors.
By integrating electronics, the use of state-of-the-art materials, and focusing on machine safety and the Internet of Things (Industry 4.0), Aventics is a pioneer in applied and environmentally-friendly solutions. Aventics is preparing for the future by expanding its approach to digitalization.
With around 150 years of expertise in pneumatics, Aventics employs over 2,000 associates worldwide. From production sites in Germany, France, Hungary, the USA, and China, Aventics markets its products in over 100 countries through direct sales and sales partners. The Aventics Group has received multiple certifications, including ISO 9001 and ISO/TS 16949 for quality, ISO 50001 for energy management, and ISO 14001 for environmental management.